Breaking the most shocking news of the season, Salman Khan announced double eviction to the audience but kept it a secret for the contestants. After a week of tough tasks and endless fights, the Weekend Ka Vaar episode kicked off on a serious note with Salman giving contestants morality lessons. The weekend episode opened with the host showing a video of Swami Om in which he was seen requesting Salman to not create more distress for him by exposing his reality to the fellow contestants. Not sure of whether he will be able to save the self-styled Godman this time, Salman addressed the fight that created a storm inside the Bigg Boss house. Visibly upset about Swami's comment (read slut shaming) on Mona Lisa, Salman explained him that he has not right to voice opinions about anyone's character. Putting the spotlight on the male contestants, Salman also mentioned that he is extremely disappointed in them as they did not stand up for Mona when Swami was hurling lewd comments at her. Guilty of their actions, the contestants apologized for not being supportive enough.
The drama increased as the contestants were asked to choose the Khalnayak of the week, where Swami and Manveer gave each other a tough fight. Salman then reprimanded Swami for not supporting his teammates during the Lock Down luxury budget task. Manveer and Manu, who were obviously quite pissed with Swami lashed out at him. It didn't end there. Salman then rebuked Swami and told him that it was wrong on his part to make comments on anyone's dressing. If you will remember, Om Swami made some lewd statements on Nitibha Kaul and Mona Lisa's choice of clothes. Swami was quick to portray himself as a victim of the circumstances and started sobbing while putting across his point. Salman turned a deaf ear to his clarifications and warned him not to make such comments in the future.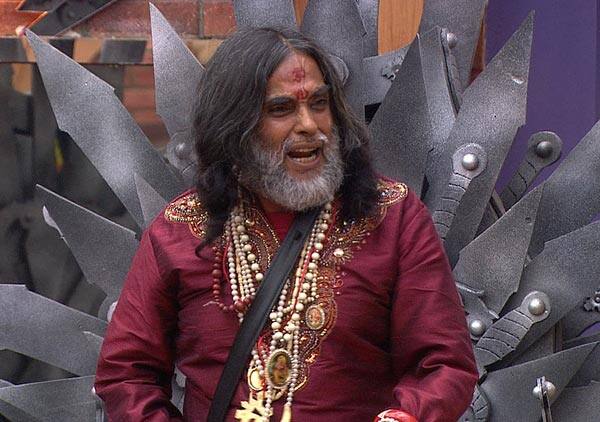 Salman then said how he was disappointed with Karan Mehra, Rahul Dev and Rohan for not standing up against Om Swami, when he attacked Mona Lisa's character. Mona Lisa too was unhappy, especially with Rahul for not supporting her.
Salman then appreciated Lopamudra Raut for always taking a stand for what's right. And we are with Salman on this one. The lady's actions are quite commendable, we must say. Up next, Salman moved towards addressing the issues pertaining to the newly elected captain of the house Rohan and his not-so- fair decision making abilities.
Breaking the seriousness of the moment was Mouni Roy, who entered on stage dancing to the tunes of her song Ki Kariye Nachna Aaonda Nahin from the movie Tum Bin 2.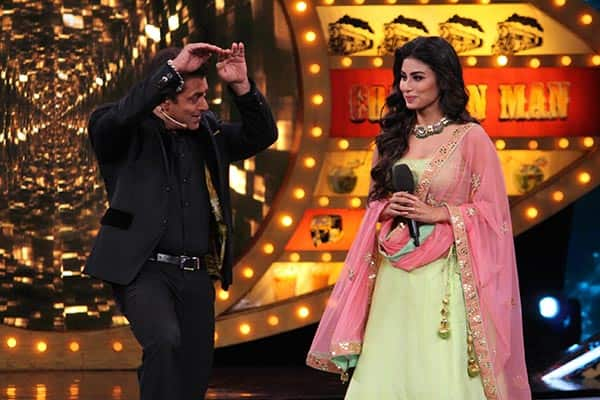 While, Mouni spoke about the movie, she told Salman that last night Om Swami had come in her dreams and told her that that if she does a Naagin scene with the greatest hero than her career will shoot the sky. Not able to stop laughing after listening to what Om Swami said, Salman told her that then I have to cooperate with you on this and asked her what he has to do. Mouni told him that you need to act like a villan who has to steal the Nag Mani from her and jokingly Salman asks her that 500 and 1000 Rs notes will do. We were in splits when Salman did the Naagin dance in his style with Mouni.